More New Stuff has been added!!.








Model Car Tech aims to be your source for modeling information. The "Tech" in Model Car Tech is for "technique" as well as technology. I believe more in "appropriate technology" than just "high-tech". That means that sometimes low-tech is the best tech. From the information on my site you can learn: Photoetching at Home, Inexpensive Resin Casting, techniques for bodywork and painting, scratchbuilding ideas, and, soon, even more.

Things to come:
Paint booth design and construction.
More about resin casting.
Better bodywork and finishing

Contact Model Car Tech via email.




---
Webrings
The ModelCarList Webring
[ Previous 5 Sites | Skip Previous | Previous | Next ]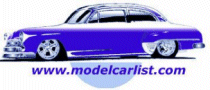 [ Skip Next | Next 5 Sites | Join | List Sites ]